Really diggin' okcupids' blog or "trends" page. They report on online dating trends by judging user profiles and pictures. Some noteworthy subjects
The Big Lies People Tell In Online Dating
,
Your looks and Your Inbox
,
The 4 Big Myths of Profile Pictures
. The delivery is very conversational, unpolitically-correct and usually backed with great lil charts (who doesn't like charts?). Recently they posted on
"The REAL 'Stuff White People Like"
. The article looks at key/recurring words from different races on okcupid. Pretty interesting to compare and contrast what different races want to convey about themselves. Here are some of the results:
Vanilla
Butter Pecan
Red Bean
And just for kicks... ME (these were key words in my profile)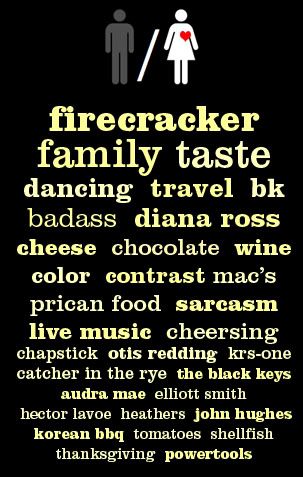 More races and sarcastic commentary
here
.