First let me begin with how prepared I was... I left my house Friday morning all packed with multiple comfy/lounging outfits, snow boots, board games, movies and Firefly. The snow had already begun to stick when I left work that afternoon, so I went straight to Lil Miss Honsauce's house, where I had every intention of weathering the storm. LM Honsauce had other intentions, one being getting a ride to Hamilton Tavern to celebrate with a friend for his bday. She reassured her husband and myself that we would have no problem just catching a cab back. Our ride to the tavern was pretty scary, so I was already doubting how the night would end, but vodka and the most amazing burger in the world have a way to make you forget your worries.
Crosstown Burger $10

Roseda Farms beef, shredded iceberg lettuce, tomato, onion, & horseradish cheddar ...Add sticky-spicy bacon or a fried egg for $1 (both for $2)
LM Honsauce and I split this (with the bacon & egg-of course) and some garlicky mussels. This burger was phenomenal, almost worth the grueling journey ahead.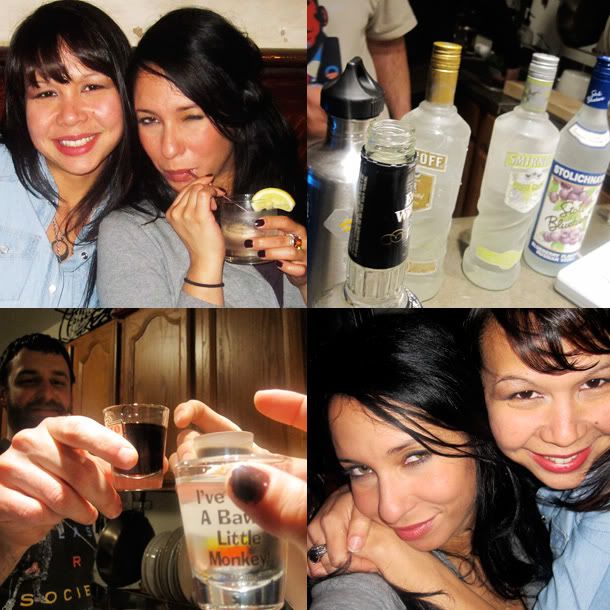 Several drinks and shots later, we were in full denial-mode. A blizzard was brewing and we had no way "home" and were without any necessary supplies (besides vodka).
COMPLETE and utter DENIAL.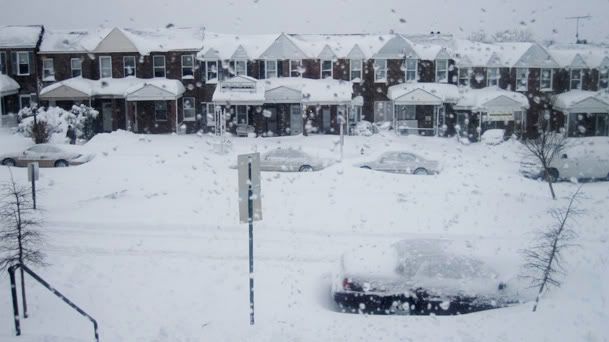 We woke up to this mess–Harford Rd. (a snow emergency road).
We are now stuck far North in Baltimore City and far South is "home" with dogs that need taking care of. What to do???? Luckily, we were in the company of mountain-men, with literally all the gear needed to climb Mt. Everest-seriously! So, I suit up for a hike of a lifetime...
Notice my lack of enthusiasm. Sometimes people and their optimism REALLY piss me off... Either way, we were all determined to get back and we had two mountain-men with us to guide our way and make sure we didn't eat each other. Stocked with water/snow shoes/snacks/hiking poles and extra clothing we began our 5.2 mile hike in the blizzard, measuring about 2 feet deep at the time. Using iWalk for direction, we hiked through the upper residences of Baltimore City, through the hood (where onlookers thought, "crazy white people") and back to SouthEast Baltimore. On our way, we were interviewed and photographed by the Baltimore Sun for our obvious foolishness. I do have to say though, there were some genuine beautiful moments that wouldn't of been able to be captured any other way. They almost made up for the moments that I wanted to cry and my legs wanted to give out. Being reminded that my tears would freeze–I kept them in.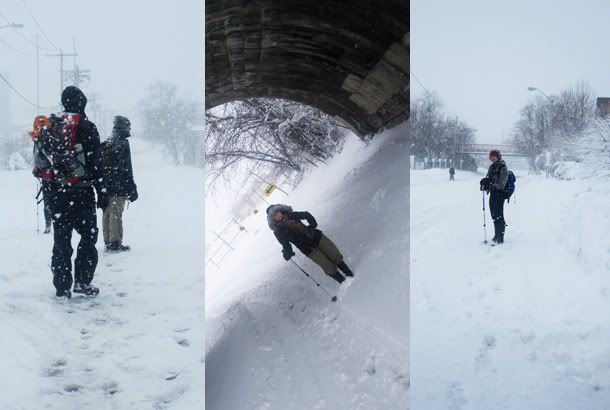 Not sure if you can see it... but, she is STILL smiling! Damn her.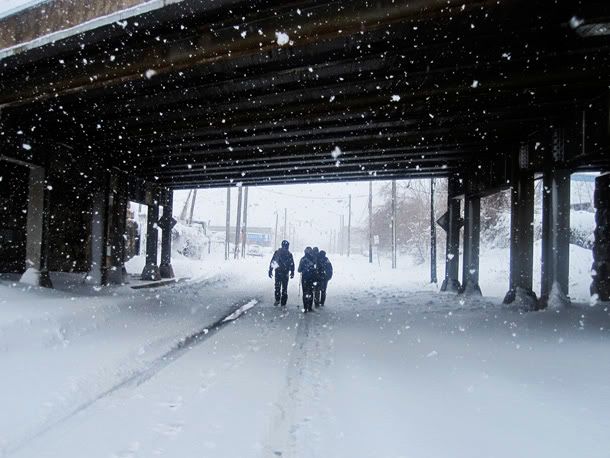 Me... always bringing up the rear. Someone needs to have their back.
Now, how do I end this story??? Well... we got "home" obviously and now I'm here to blog about it. Moral of the story: Bdays and Burgers are not worth risking your life in Blizzard conditions.