This weekend totally didn't suck
.
Friday:
Lil Miss Hot Potato and I drove to DC (with KRS-One on full blast) to party with Sly Fox and his funky bunch. After warming up, we cabbed it to a packed/sweaty club called Park... danced a bit, things got fuzzy and I left my cell phone is a cab on the way back. This is a classic "me" move. One of my other gf's does it so much that she puts an "if lost, please call..." sticker on the back. I may need to implement this tactic. LM Hot Potato said when I got out of the cab and realized it was gone, I dropped to the ground and put my arms in the air "oh, what a world"–style. This is a moment where Weekend in Video would have been entertaining. Regardless, I had a great time and felt semi-liberated the next day.
Oh look, there is my phone :/
LMHP and I trying to capture the blue lights in "Club Campiz"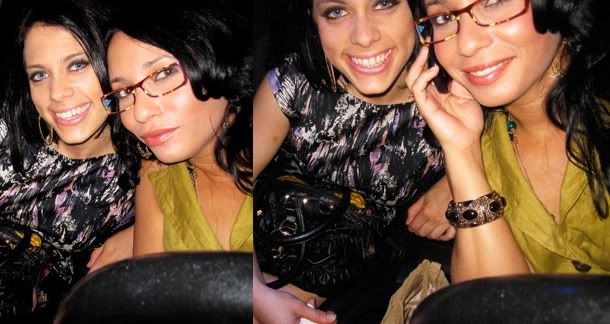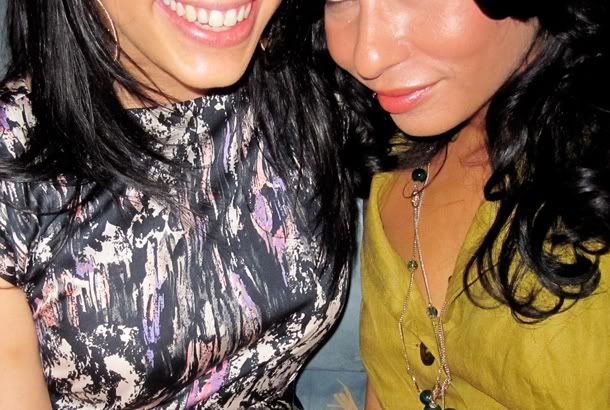 Why is this dude marking his hand, you say? Well, he's keeping track of his drinks! Hmm... sounds like a good idea, but I know if I did this I'd wake up with marker all over my face. I believe Sly Fox is modeling the latest fashion in Bounty.
This is when we are nice to our cabbies.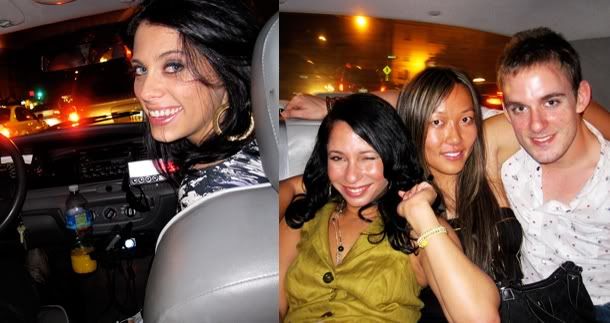 Sweaty and lazy-eyed at Park.
Saturday:
Now for the highlight of my weekend!!! After taking it super easy on Saturday (day) – LM Hot Potato and I indulged in cheesy horror (Seventh Moon) and Pan's Labyrinth (not cheesy), we drove to Easton, MD to see Audra Mae perform. Easton, MD is one of those small towns on the way to the beach where you drive through and wonder how civilized people live out there. On our way down we joked that we were sure to get lost and end up in the cornfields and LMHP said she'd probably meet Malachi and fall for him. Children of the Corn people! It's a classic. We get there a lil early and grab a quick bite at the town's Pub which closes at 10pm. We make sure to use our indoor voices because it's obvious in this scene who does not belong... us! Even inside the Nightcat (a 60 people max venue), we are like "so not from around here...". The venue was comprised of predominantly conservative fans in their 50-60's. So, no date's for the night, which I could care less about because I was beyond excited and thrilled to be front and center. We sat 2 feet from her microphone and I could not stop smiling. Audra Mae was phenomenal. I held back tearing up when The River came on as the 1st song. Her voice and music is so moving on cd alone, but in person her voice is freakin' amazing. She was so passionate and genuine, it hurt. I couldn't resist going up to meet her after the performance! Ahhhh :)
"
Livin' for the light... like a good girl should
,"
(lyrics from The River, which Audra explained btw is about that dirty double-standard).
Sunday:
Still on my Audra-high, I met my family at church Sunday morning. Church is doing this series now called Bob & God (as in Bob Dylan). This week they performed and analyzed the lyrics of Gotta Serve Somebody. Basic principle of service: By exuding the light inside you, others around you will have no choice but to be inspired (at least that's what I got). Then I went over to Lil Miss J.Boogie's house to tell her of my weekend tales (since I couldn't call her!). While there I got seriously hooked up with new music and tracked down where I could borrow a temp phone. We also contemplated how I could get into coconuts to convert them into drinking cups for my pina coladas... drill? hammer? Too much room for error, so I just went to Party City to get plastic ones. After picking up my replacement phone, I drove home to start my Lost-viewing dinner–pork kabobs with a spicy mango sauce, pinenut/cherry tomato couscous, pineapple/coconut ice cream and sliced mango (that we were too full to eat). Ohh and pina coladas and champagne! As for Lost, I'm still trying to digest the finale. My first impressions have left me feeling a bit sour. I felt the ending was a bit forced and I still have some unanswered questions...